PROFILE
-
Finished Program Minhwa (Korean Folk Painting ) of Hongik University
Exhibition History
at Hong Min
Solo / collective exhibition at NCC
Award History
4th place in Minhwa competition (2016)
4th place in Minhwa competition (2018)
1st place in Modern Minhwa competition (2018)
Art Residency
Cité Internationale des Arts in 2020
---
MOTIVATION
-
I am an artist working with traditional Korean coloring methods, but I'm also interested in benefits or advantages from modern methods and digital technology. I've been questioning myself about whether the digital world is good for humans and how analog ways should be changed in this world if we can't avoid technology growing. I believe the analog work I do doesn't only belong to the past, but also it will always be the basis of digital, but I think that things that don't change as time passes by will end up falling behind.
When I heard about this exhibition, I was curious about how AI could explore and learn Korean folk paintings and how AI would bring them out in the world. The concept of collaboration which is by human artists and an AI artist was a good enough reason for me to participate in this AIA project. Also, I wanted to experience the AI artist in person to get to know its actual ability.
---



COLLABORATION ARTWORKS

WITH AI SKETCHES

PROCESS

-

It is difficult to define Korean folk painting in a word, but considering its main meaning, folk painting is a painting for wishes. So, in the first collaboration with AI, I decided to go with Gilsang which means hopes for the blessings and lucks. So, for the keywords to feed AI, I picked 3 words which are Minhwa (Korean Traditional paintings), Gilsang, and Bok (Good luck) and they are the fundamental ideas of Minhwa.

In the AI sketch I was given I saw an abstract form of a lucky bag, and I work on it by adding symbols of Gilsang as a decorative painting. I wanted to show the beauty of tradition that can be discovered in the fusion of digital and analog. I used to mainly focus on the difference between digital and analog from a critical perspective but this time I focused on the harmony of digital and analog.




After I received the AI sketch, I was quite concerned about how to apply my work methods into this work since I had to finish it in less than a week. I had wished I would've had more time. However, AI got its part done and I had to get my part done as well. So, I finished the collaboration in a traditional method with Korean traditional paper, ink, powder, tools, and printing techniques.
---
MESSAGE FROM HER WORK
-
This artwork delivers wishes that all human universal wishes come true. Peony, the symbol of wealth and honor, lotus, the flower of the monarch, which is the meaning of longevity, are engraved on the lucky bag. In this work, I was thinking about the harmony of digital and analog. I accepted AI as an intellectual being and tried to figure out why AI brought out the result as it is. I'm looking forward to seeing how AI could help humans' universal wishes.
---
WORK OF ART
-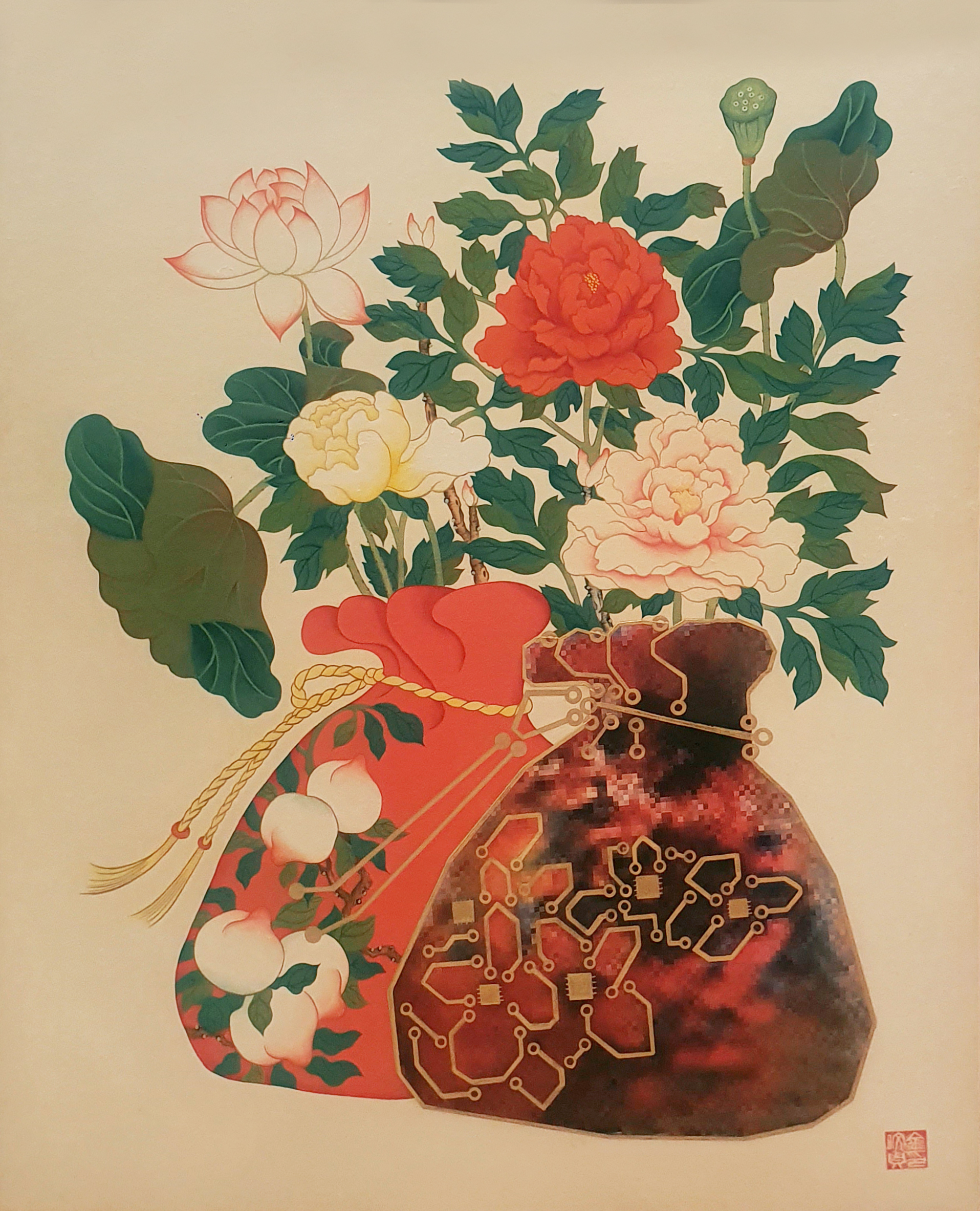 Hope with you
MIN JUNG RYU, 72.7x91cm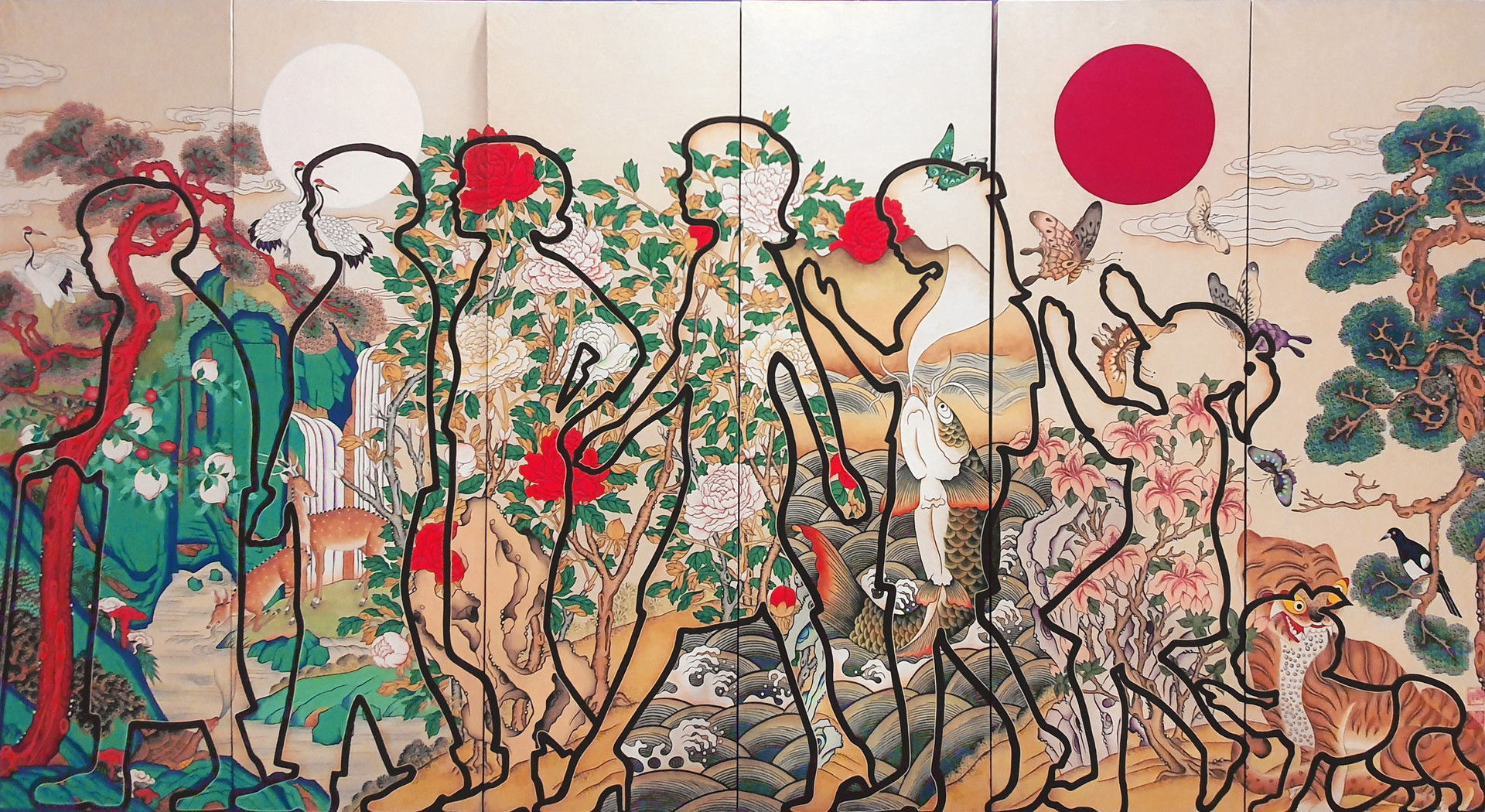 Let me walk the flower path
MIN JUNG RYU, 125x38.5cm