PROFILE
-
South Korea in 1983
Finished Master in painting at Hongik University.
---
MOTIVATION
-
As an artist more of using hyperelastic methods, I have always worked with techniques of exaggeration and reduction of colors or forms rather than expressing it as it is. In the new media era, working with photoshop which transforms photos has become commonplace, and the transformation of photography in this era is no longer surprising. So, as a figurative artist living in this era, I've asked myself about what has been changed so far. Then, I decided to participate in the AIA's exhibition to come out of my shell through a new experience with AI.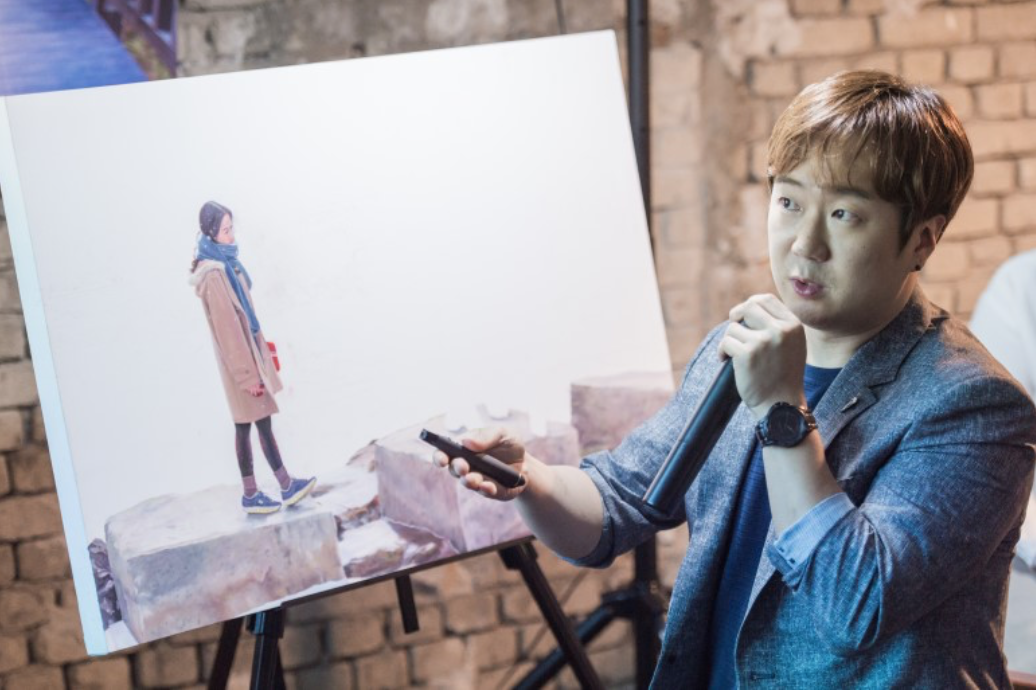 COLLABORATIVE ARTWORKS
WITH AI SKETCHES
PROCESS
-
To be honest, it was hard for me to figure out the image I received from AI which deep-learned with the keyword of a 'girl' and a 'companion dog'. The process of learning numerous images through the keywords reminded me of the hashtag of social media. It' because you can find tons of images in one keyword, but the difference is that the hashtags are linked with images for communication and empathy with other people. However, the image came out from AI deep-learning through a girl and a companion dog was kind of the opposite. Here, I thought the difference between humans and AI was the difference between empathy and perception. So, I had to work on the image to be converted into a concrete image based on the keywords.
The image created by AI reminded me of Mongyudowondo (Dream Journey to the Peach Blossom Land). Mongyudowondo, which depicts a utopia in a dream, is a Korean traditional artwork that shows the ideal world. Society becomes more and more subdivided. The ability of empathy that humans have toward others and society has been got weak. So, I think that the value of empathy, communication, and convergence is an important topic in the modern age. For my artwork, I applied three different perspectives at different angles just like Mongyudowondo and each element is combined into one image by adding fogs and lights. AI meets artist, new media meets analog, and oriental elements meet western ones. These all sum get together and blended in with one another as a fusion.
The adolescent girl who always appears in my artworks symbolizes modern people who are confused about their identity and position between childhood and adulthood, and the huge companion dog means an unchanging being that protects and gives them consolation and comfort. The pixelated sketch I was provided stimulated my imagination and based on that, I could materialize it into the artworks. I wanted to deliver a message that all fusion elements in the sketch could complement each other, so we can see the ideal balance.
Finding similarities in things that have different attributes and fusing them together stimulates my imagination. This era is quite well fragmented and the networks are tightly connected. That means we could be a big frog in a small pond and could end up falling behind. Through this collaboration with AI, I could have an opportunity to broaden the scope of thinking with the process of finding new things using the image created by AI for the base of ideas.
---
WORK OF ART
-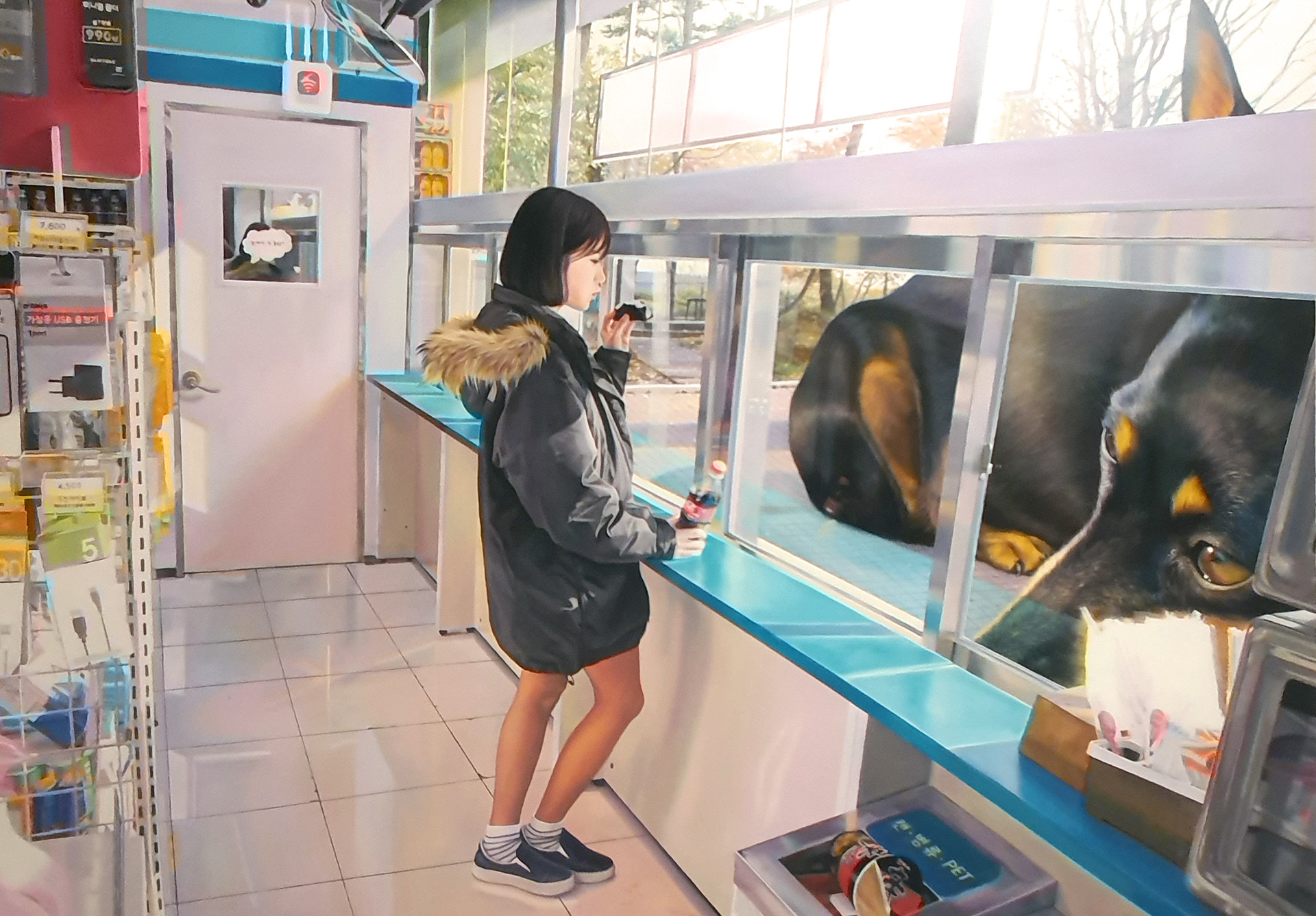 Gleaming-Fill heart
Woo Jae Jung
80.3X116.8cm
Dear Blue-Keep me company
Woo Jae Jung
27.3×45.5cm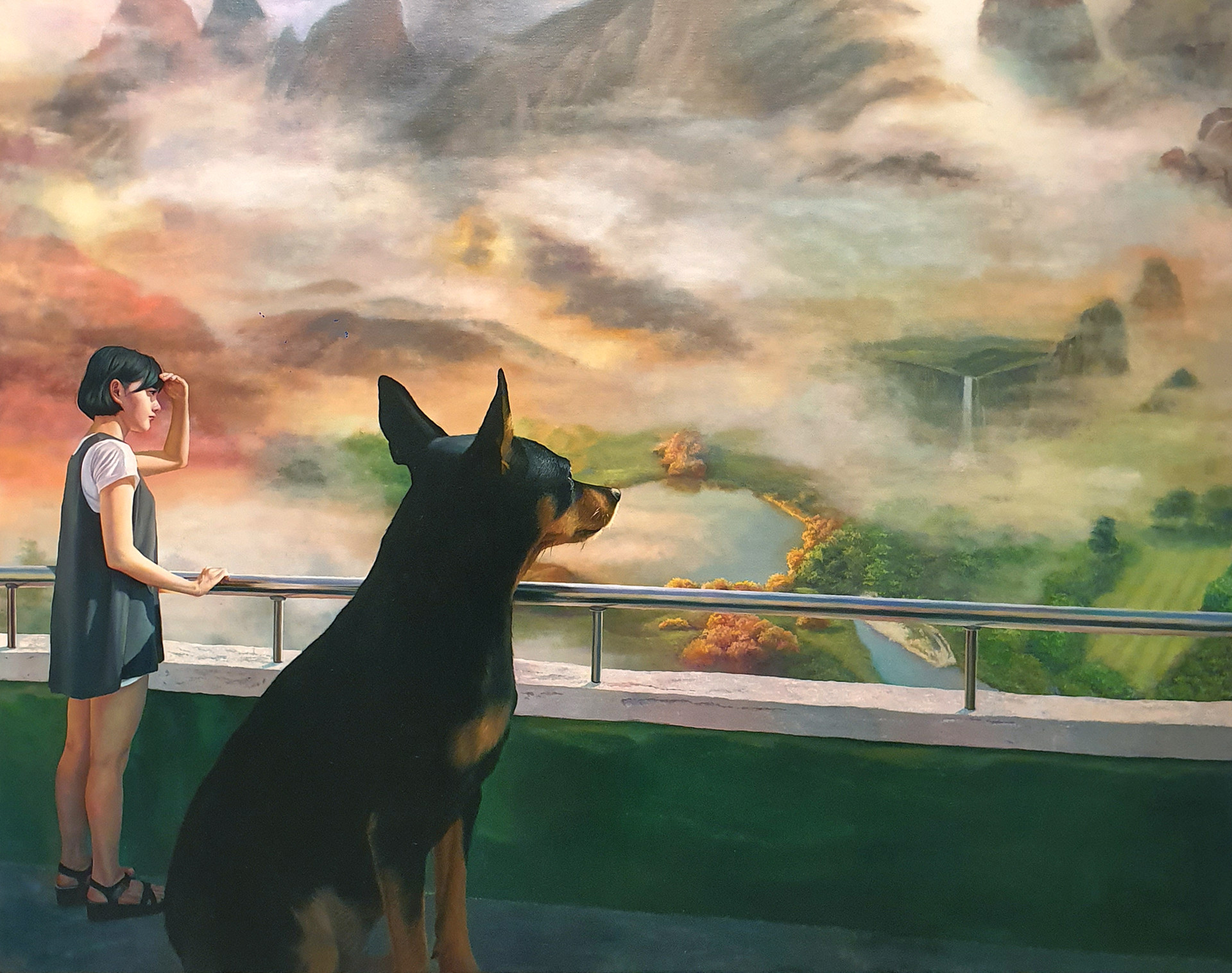 Daydream
Woo Jae Jung
72.7×90.9cm