[EDUCATION][22.05] AI Art Artist Discovery Project, 'AI Art Workshop'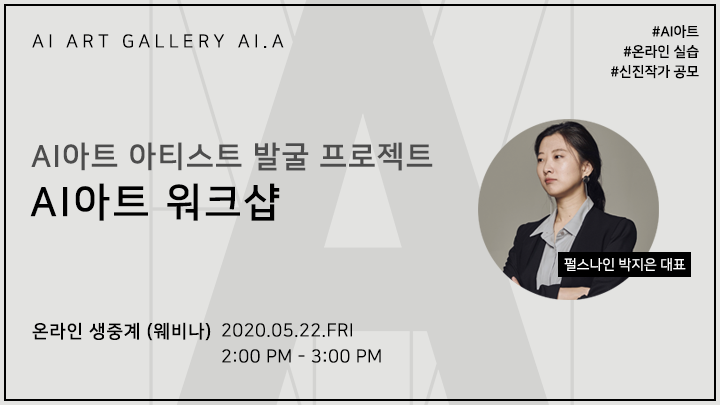 *Please click on the image above to go to the registration page.
---
AI Art Artist Discovery Project, ' AI Art Workshop '
on Friday, May 22, at 2 pm
AI Art Workshop is OPEN !
Oline AI Practice / Free of charge
AI Art Artist Discovery Project
Online AI Art Workshop is open.
AI Art Gallery AIA is holding <The 1st AIA Gallery's AI Art competition for new Artist> to discover young and talented artists and to support their artworks using AI tools which are a new emerging artistic medium.
On May 22 (Fri.) at 2 pm online AI art workshop will be open. This AI art workshop is for those who are interested in AI tools as a new artistic medium but don't know where to start due to the lack of knowledge. So, this time we will learn about how to use AI tools. Any new artist who wants to participate in this competition, as well as anyone interested in AI art, can join us in the workshop.
[Host]
Jieun Park, CEO at Pulse 9
Jieun Park, CEO of Pulse 9, a graphic AI company, was fascinated by technology while working in IT industry, studied Big Data MBA at ASSIST. While she was developing an AI chatbot after her master's thesis, she founded Pulse 9.
Pulse 9 is attracting attention in the AI industry of South Korea by introducing Korea's first AI art painter 'Imagine AI', AI art commercialization service 'Paintly AI', and 'AI Art Gallery AIA'.
[Program]
on May 22 at 2:00 - 3:00 (60 min), Online webinar
1. AI Art competition briefing (5 min)
2. AI Art workshop (50 min) - Online AI tool practice
- 1) AI authoring tools review such as Google's Deep Dream Generator, RunwayML, Ostagram, Playform, and so on.
2) Nvidia's GauGAN practice (*must bring your own laptop to join the practice)
Expand your creativity with AI-drawn sketches,
AI Art One-day Workshop
We would like to conduct a creative AI-centered workshop with a new approach to applying AI, emerging in the 4th industrial revolution, to art.

We want to open a new horizon of figurative art education by integrating AI's deep learning technology with creative ideas and humans' handling skills in technology.

We are looking forward to creative and passionate artists who want to participate in creating the era of AI art using AI tools.
Join this workshop if you...
want to participate in the AIA's competition
want to create new artworks using AI art
want to draw or paint even though you don't have any art-related background
want to complete artworks for yourself
[Online Livestream (Webinar) Registration]
Please register on the event page.

You can access the webinar via our event page.
*In our webinar, we will have a Q&A session. You can ask whatever you want to know.
*We recommend using Chrome on PC.


Go to register
https://event-us.kr/pulse9/event/17754