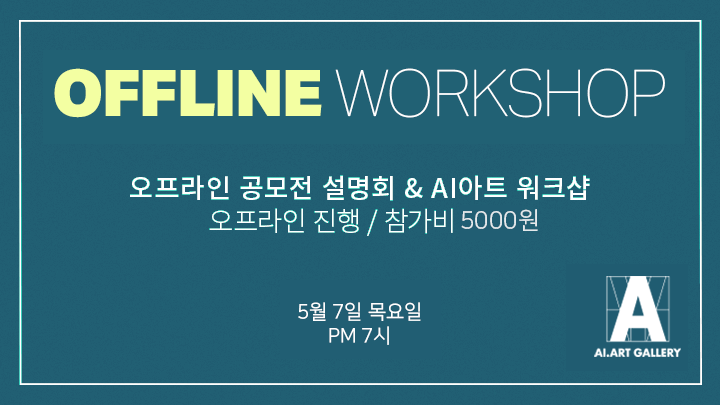 *Click on the image above to move to the registration page of the event.
You can learn more about how to register on the registration page.
---
Offline AI Art Competition Information Session & AI Art Workshop
On Thursday, May 7, at 7 pm
AI Art Competition Information Session & AI Art Workshop will OPEN!
It's going to be an offline event / Entry fee 5,000 won
(Entry fee is meant to prevent from No-Show / Drinks included)
Our first project to discover AI art artists!
An offline information session
AI Art Gallery 'AIA' will host "the 1st AI Art Competition for New Artists" to discover new and competent artists and to support them with AI tools.
For 'AIA's the 1st AIA Art Competition for New Artists', we will host an offline information session and workshop on Thursday, May 7 at 7 pm.
We look forward to interests and participation from creative and passionate artists, who would like to contribute to creating a generation of AI art with AI tools.
This information session and workshop is for those who are interested in applying AI tools to their artworks but don't know where to start because of lack of experience.
It will be a place for an AI tools workshop and a Q & A session of the competition.
It's not only open to new artists who would like to apply for the competition but also to anyone interested in AI art.
In the workshop, we will do a new and creative approach that applies artificial intelligence to the art, just as befits the 4th Industrial Revolution era. This competition has been drawing big attention from media home and abroad.
Creativity Expansion from AI sketches
AI Art One-day Workshop
We hope that this event opens a new horizon for art modeling education by integrating AI's deep learning technology with creative ideas and human's handling skills.