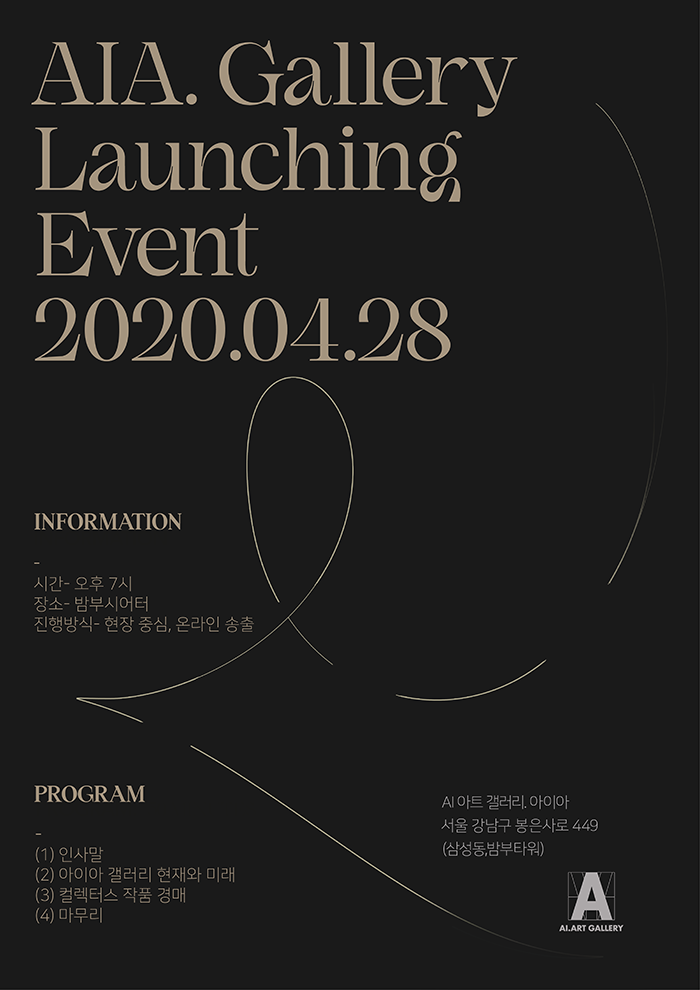 AIA Gallery Launching Event & Collectors Auction
On April 28, at 7 pm
We invite you to AIA Gallery's Launching Event.
AIA Gallery, a collaboration art platform for humans and AI, has been introducing the value of AI art
through colorful exhibitions and auctions.
In this online event, we will have time to look into the present and the future from the vision AIA Gallery is presenting in the art world. AIA Gallery will be holding a special auction consisting only of AI artworks owned by collectors.
The event will be conducted on the site + online live-streaming at the same time.
For the on-site event, some selected collectors will join us, and you can freely join us in this event through live streaming on AIA's YouTube Channel.
We invite you to join the online launching event of AIA Gallery where we celebrate our official launch in a new place. Feel free to join us on a meaningful day. Thank you.
Event Date
On Tuesday, April 28 at 7:30 - 8:30 pm
Invitation Link
AIA Gallery Youtube channel
Event Schedule
- Greetings & Introduction of Gallery businesses
- Collectors Auction
- Wrap up
* We offer free parking. If you're interested, please call at 010-2900-8653.