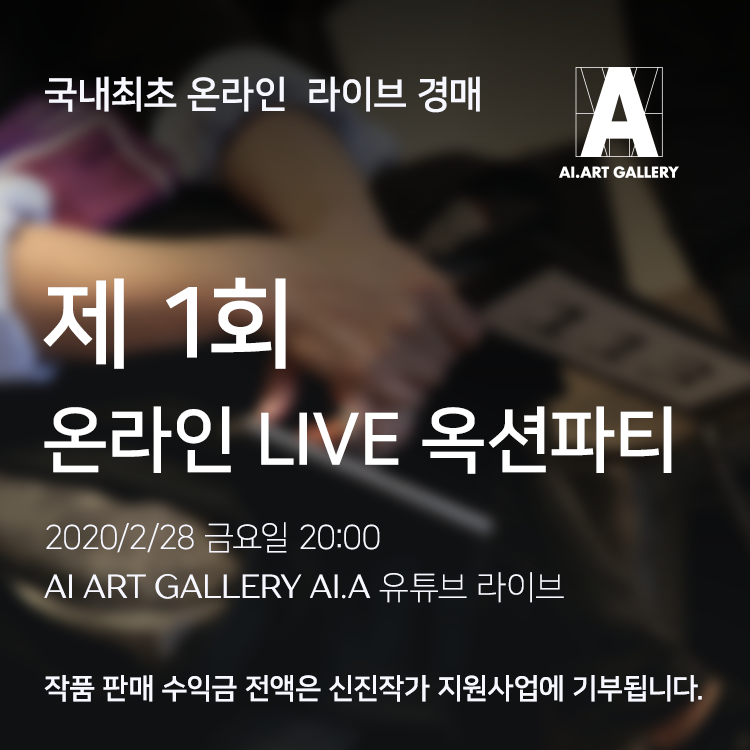 *Click on the image above to move to the event page.
The 1st Online Live Event 'Auction Party'
28. 02. 2020 (Fri) at 8 pm
-
'AI ART GALLERY, IA' is an art platform established under the motto of 'AI X HUMAN', which means collaboration between AI and humans. It supports experimental collaboration and various artistic attempts at the point where humans and AI come across and we are leading the way in creating the value of AI art that has emerged in contemporary art. Thus, on February 28, at 8 pm, we will hold an online live auction party with the theme of "Best Wishes with Paintings".
This auction will be broadcast live in real-time online and we will also have a mini-knowledge concert - a form of knowledge entertainment and commentary section like "Paintings bring a luck" to help visitors gain knowledge of the entries. The entries at the auction are 6 pieces of flowers, carp, peacocks, etc., which are symbols of good fortune since old times, and they are all from Paintly AI's original zero edition artworks.


We hope that the online auction party can liven up the social atmosphere shrunk by COVID-19. So, to popularize Arts & Culture, which are not familiar to everyone, we set a reserve price of $10 USD. We will be also providing a lot of information regarding those artworks so you can enjoy more this event.

Paintings have the power to comfort and warm our minds. We hope that you get the warmth from lucky signs (吉祥) and fortunes (福), delivered by the artworks created by artificial intelligence, via this Online Auction 'Best Wishes with Paintings'.

- Song Hyun Joo, art director at AIA -